I even went to the local Office Depot to compare the ones I had bought from overseas, with the ones on the shelves.
They were identical!
Naturally, since I was a rookie, I got excited.
Without a second thought, I started selling.
And boy, did they sell fast!
I sold out my 1st batch in days.
I immediately ordered another batch—this time an even larger order. I even had the seller expedite the shipping so I could get back to selling ASAP.
A few weeks after shipping the first batch of products to my customers, I started receiving some SERIOUS complaints and support requests. Most buyers were unable to activate the software. Others reported the disks were blank, unreadable, or cracked.
It turns out the software was all counterfeit.
When I reached out to the vendor, I immediately knew I was in serious trouble. He stopped responding to my complaints and refund requests.
I had spent all the money I had gotten from my initial sales to place my second order.
I couldn't even afford to refund the buyers!
I had just been scammed! By a seller in China — recommended by a so called "guru."
Oh I was fuming! I felt taken advantage of, purely because I was a newbie. So naturally, I went back to the guru's Facebook group and asked the question.
Here's a screenshot: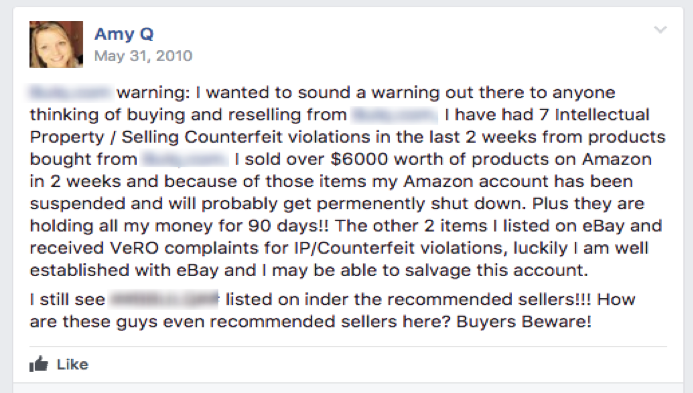 After over 40 comments by others complaining about other "recommended vendors", the "guru" came on and you want to know what their response was?
Here, take a look:

Yep! He even plugged his product! The nerve!
Despite all of the complaints from me, and several other students of the course, these scammy vendors remained on his "approved and vetted vendor" list.
Why? —Because the vendors had paid to be on it!
After this nightmare, the biggest risk to my business was that my online selling accounts were facing the threat of being shut down! eBay and Amazon have a zero tolerance policy for sellers dealing in counterfeit products.
Even though I was finally able to refund all the buyers, my Amazon account was suspended. It was years before I was able to recover the account, through a process I would not wish on my worst enemy.
I was able to salvage my eBay account after issuing refunds. However, for a while there, my fledgling new business was again on the verge of being extinguished. It's not like I had tons of money to refund people! I was just a newbie!
My experience with this "guru" is the biggest reason why I teach people how to find legit vendors on their own, just like I did. I don't have a special "approved vendors" list that someone can may me to be a part of. And I NEVER will.
By the way, this was just one of the many rookie mistakes I made.
It forced me to come up come up with the 10 vendor approval guidelines I'm about to share with you, below.