Merchandising Tips for Discount Stores
An attractive storefront is important! Make sure the entrance entices people to come in, has a clear "entrance" sign and is clean and welcoming.
Make use of your store windows. Ensure you use them to communicate what you sell, any promotions you're running, discounts you're offering and other messages (like opening hours). Change your messages up at least twice a month to avoid the perception that you have nothing new to offer.
Organize merchandise by the category whenever possible to make it easier for shoppers to find what they're looking for.
When laying out your store, put similar/relevant items near each other. For example, if you're selling beds or mattresses, put your bedding and linen items in the same section of your store. This will help you up-sell and get the most out of each customer's visit. "Buying a mattress? Check out our bed-in-bag sets to go with your new mattress!"
Place your pricing sticker in the same area on each product. This creates consistency and allows your customers to find the price easily.
Use a simple dating system to help you determine how long products are sitting in your store before they sell. For example, use a letter and number format like A, B, C for the months and 1, 2, 3 for the days of the month. An item marked A1 would then have been in your store since January 1st. This will allow you to quickly see what has been in the store for too long so you can discount it and make room for new items.
Clear the aisles. Make it easy for customers to walk through the aisles without any hindrance – blocked aisles result in no-go areas and lost sales.
Walk the store as if you were a customer. Do you bang into merchandise or displays? Is merchandise hard to reach? Is it difficult to find what you want? If so, make the necessary changes.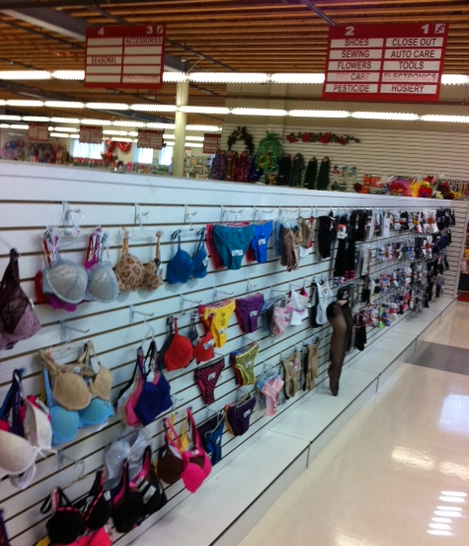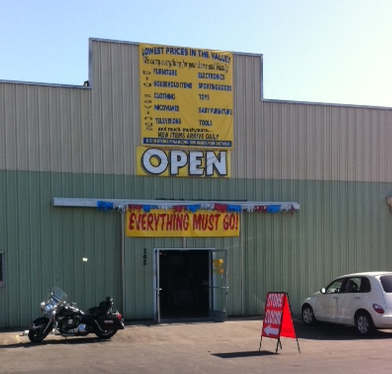 Purchase retail displays for small merchandise. Instead of dumping small items into bins that customers have to rummage through, consider purchasing retail displays on which to hang the items to make them more attractive AND easier to see for your customers.
Keep the store clean. Just because these are discounted items doesn't mean they have to be dirty, dusty and unattractive.
Assign sufficient staff to be responsible for merchandising. Making items attractive on the shelves, replenishing shelves once certain items sell out and keeping the store tidy and well laid out is a full time position and requires a hands-on individual. Don't skimp on the things that make your store attractive to your customers!
Put tall items against walls so that they don't block the view throughout your store.
Keep items within arms' reach. Stacking shelves too high with merchandise is not only potentially hazardous, but it can also result in customers not buying certain items because they physically can't reach them.
Eye level is buy level! Keep a note of your best selling items and place them at eye level on the shelves.
Choose an area inside your store to put your clearance items and keep that space consistently. Return customers will know to go look there for new great deals on clearance items.
Use signage to communicate key messages like discounts. Use signage also to define merchandise categories in your store. You can hang those from the ceiling or put them on sign holders, but give your customers an easy to way to know what is where inside the store.
Use small shelf signage to communicate product-specific messages. Shelf signage can be placed on specific shelves to communicate something about that exact product.
Put smaller items and low priced items near the checkout counter to encourage impulse buys!
Stage the merchandise where feasible. For example, use mannequins to display clothing, dress beds with sheets/pillows/comforters. The more customers are able to visualize how the item may look in their home, the more likely they are to buy it.
Separate clothing by men, women and children and organize it by size – all size Small on one rack, all size Medium on another rack, etc.
Offer baskets or shopping carts to help customers carry merchandise. If you offer no carrying solution, customers will purchase only what they are able to hold in their hands.
Make the shopping experience pleasant! Make sure your store is at a comfortable temperature with sufficient lighting. An uncomfortable experience can lead to customers cutting their visits short.
Take one item out of its box to show your customers what the actual item looks like (and to avoid them opening boxes themselves).
Take advantage of loss leaders to bring in additional traffic into your store. A loss leader is a product sold at a low price (at cost or sometimes below cost) to stimulate other profitable sales.
Train your staff on product knowledge so that they are better able to answer any questions customer may have.
Ensure your staff greets customers pleasantly and let them know they're available to help if need.
Invest in a retail Point of Sale system that can provide you with a detailed sales analysis to enable you to know what sells and what merchandise is lagging in sales.