The Watts Life Lanes Project Hot Meals & Toy Drive (2011)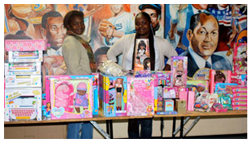 On Sunday December 18th, 2011, Via Trading had the honor of participating in a community event in our local area of Watts, to bring a hot meal and toys to the disadvantaged families of the area before the holidays. The event was held at the Watts Labor Community Action Committee (WLCAC) center, a non-profit, community-based, human social services organization dedicated to improving the quality of life of South Central LA residents.
This event was put on by the kind people of the Watts Lane Life Project, a program created by the East Side Riders Bike Club (ESRBC) and the Watts Labor Community Action Committee (WLCAC) in collaboration with the California Highway Patrol, the Sheriff's Department an LAPD, with the purpose of creating a Community Outreach program and a Bike Safety Project.
At 11:00 am, the event was kicked off by an impressive procession of motorcycles by the East Side Rider's Bike Club, as throngs of leather-clad men and women arrived to help serve food and distribute toys.


Families were then invited into the auditorium where they were served a hot meal that they enjoyed at picnic tables inside and outside the auditorium. Children played as parents finished their meals, and the WLCAC regulars showed off their skateboarding skills at the Watts Community Skate Park within the WLCAC's fences. Hundreds of families lined up outside the WLCAC's facilities awaiting their pre-holiday meal and festivities.

Once the meal was over, lines formed outside the main hall where thousands of toys were stacked up on tables, generous donations of nearby companies and local supporters including Via Trading.


Children were ushered to the tables that contained age-appropriate toys. Each child was able to pick a toy and a stuffed animal to take home. Smiles abounded and the warmth that was felt by all those present – volunteers and guests alike – really made it feel like Christmas despite the sun shining in LA, like it often does over the holidays.


The Watts Life Lanes Project hosts several community events throughout the year, and Via Trading looks forward to participating in more events and supporting the program in their efforts. The spirit of this organization is warm, bright and inviting. We're honored to have been a part of it.
To learn more about the WLCAC and how you can volunteer or donate, please visit their website.