We hope you're enjoying our new website! This version of ViaTrading.com brings you additional features to make your purchasing process with us easier and more enjoyable. Please see the sections below to find out what's new and how to take advantage of our new website features.

Please don't hesitate to contact us with any questions and send any feedback about our website to feedback@viatrading.com. Thank you!
Load Center
In 2012, we launched the first-of-its-kind Load Center, where you can easily find loads and their manifests from one page with very few clicks!
The Load Center houses all loads including single pallet loads, multiple pallet loads and full truckloads of merchandise.
Where available, the load center displays manifests that can be viewed directly online or that can be downloaded in Excel format for your convenience.
Load Center Features:
View all available loads and relevant information
Filter loads by various criteria
View and download single or multiple manifests instantly
Manipulate and summarize manifests
See most recent loads added (coming soon)
View discounted or "On Sale" loads instantly
Real-Time Shipping Quotes
We are very pleased to announce that you can now obtain shipping quotes directly from our website! We are currently able to quote most pallet and case pack orders within the continental USA as well as case pack orders to international destinations right from our website! You no longer have to wait for an email from us to obtain your shipping quote. Please follow these steps to get your on-the-fly shipping quote:

Browse through our listings and add the items of interest to you to your shopping cart
From your shopping cart, click the "checkout" button to view the shipping costs for items in your cart
Add or remove items from your cart to view the updated shipping costs
Please note we are currently unable to quote the following online:
International pallet orders
Ocean containers
Full truckloads
More than 6-7 pallets within the USA
To obtain a shipping quote for one of the scenarios above, please fill out our Shipping Quote Request Form and we will get back to you shortly with a quote.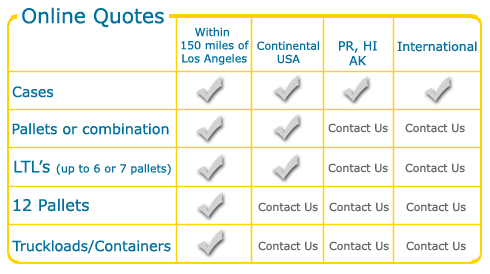 Please note: If the system displays "call for quote" on the checkout page instead of providing you a shipping quote, please submit your order and we will contact you shortly with the appropriate shipping costs before taking any payment. You will still have an opportunity to edit or cancel your order prior to proceeding. Thank you.
Product Tabs
Each product page on our website now features a series of product tabs below the images that contain valuable information about each product.
Depending on the product, you may find the following information inside each tab: Product Description, Product Specifications, Product Reviews, Selling Tips, a Product Video and in the case of loads and truckloads, a tab with all the currently available loads within a given load category.
Click on the tab of your choice to display the desired information quickly and easily.

Product Reviews
Each one of our products now allows users and customers to submit their own product reviews, and read reviews from individuals and business owners who have purchased a particular lot in the past. It may take a little bit of time for each product review tab to be filled with reviews, so we encourage you to submit your review if you have purchased something and would like to pass on your findings to other customers!
You must be logged in to your account to submit a review. Once you are logged in, please click "review this product" to begin writing your review.
We read and approve all product reviews within 24 hours.
Product Videos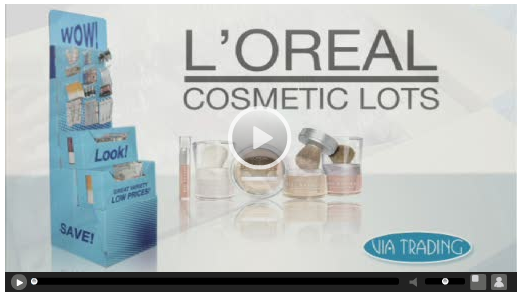 20 selected products now feature product videos inside the product tabs! When viewing a product page, click on the "Video" tab to watch a short one-minute video about the product. Videos show you the condition of the product, how they are packed and how you will receive them, and show samples of the types of items you can expect to receive in any given lot.
Selling Tips
Many of our products now feature a tab with selling tips specific to that product or product category! We offer ideas on how to best merchandise the item, ideas on how to promote the item to increase your sales and other hints and tips based on different resale channels.
If you have information or hints you'd like to share with other customers, feel free to email them to us to be included in our product selling tips!
Search Filter Navigation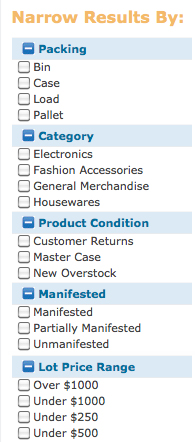 When you click on a category, you now have the ability to narrow down your search according to various metric like: packing, product category, product condition, price range and more!

Clicking on "all products" will allow you to filter through all products in stock. Clicking on a particular category allows you to filter products within that specific category.
To use it, simply tick a search box, and wait for the page to refresh. To narrow your search further, tick another box, and let the page refresh again.
Continue this process until your search is narrowed down to what you are looking for (for example: All items that are packed by the case, are new overstock and under $500.
Quick Guide to Using the Search Filter
Packing: Filter out items by type of packing. If you are only interested in case packs or items that can be shipped by UPS for instance, tick the "Case" box. If you are interested in pallets, tick the "Pallet" box and so on.
Visit our resource pages for more information about how wholesale merchandise is packed.
Category: Filter products in one or more categories. If you would like to see Electronic items only for instance, tick the "Electronics" box. If you would like to see products that are both Electronic AND Housewares, tick one box and then the other (please wait for the page to fresh in between selections.)
Product Conditions: To filter products by condition, select the condition(s) of your choice. If you would like to see items that are New Overstock only, tick the "New Overstock" box. If you would like to see New Overstock and Shelf Pull items, tick one box, wait for the page to refresh and then tick the other.
Visit our resource pages for more information on wholesale product conditions.
Manifested: If you prefer to purchase on my manifested items (items that come with a detailed list of what is inside), tick the "Manifested" box. The majority of the items we sell are unmanifested. We do provide detailed descriptions, pictures and a good idea of what you can expect to receive but unmanifested lots will always contain a mix of items within a given category. If you would like to see both manifested and unmanifested items, leave these boxes unticked.
Product Features: The Product Features section defines the types of items that are available. You can search by "New Arrivals," items that are on "Blue Label Special," items that our in our own warehouse and can be inspected prior to purchase ("Via Direct") or items that belong to partners of ours and ship from various other FOB points ("Partner Offers."*)
*Partner Offers: Occasionally Via Trading will offer liquidation goods from reputable partners we have worked with for years. These items are not available for inspection or pickup in our warehouse but will ship to you direct from other distribution centers. Partner offers typically require 48-72 hours after payment is submitted before the goods ship.
Floating Shopping Cart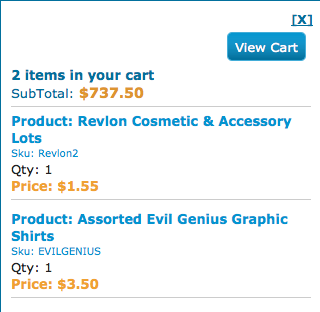 You can now keep track of the items in your shopping cart with just one click! Once an item or more has been added to your cart, click the "View Cart" link on the top right hand corner of the page to view the contents of your shopping cart without leaving the page.
You cannot update or change the contents of your cart from this floating cart view, but if you click the "View Cart" button again inside the floating cart, you will be taken to your main shopping cart page where you can add or remove any items you wish prior to checking out.
Quick Checkout
In order to make the purchasing process as smooth and easy as possible, you can now check out on one page! Once you are ready to move forward with your order, click the "checkout" link from the shopping cart page and you will be taken to the one page checkout.
On this page you can:
Update your shipping or billing address for this order
Select your shipping option
Select your preferred method of payment
Submit your order
Unfortunately at the moment you do not have the ability to update the contents of your cart from this page. If you'e like to change the items in your order, please click the "View Cart" button at the top right hand corner of the page to return to your shopping cart where you can make changes.
Extended Resource Center
At Via Trading, our priority is not only to get suitable merchandise into your hands at the most cost-effective price, but to also help you grow your business. We know that our success is only measured by your success and as such, we have put together an extensive resource section to help you develop your business.
In our Resource Center you will find articles on the following:
What to expect when working with liquidated products
Common industry terms you should be familiar with
Different types of goods that are available in this industry
General selling tips
Hints & Tips for increasing your sales in different resale channels
Resources for customers in California
Shipping information in the wholesale industry
Via Trading Success Stories to inspire others and give you new ideas to try
A Small Business advice section with articles on how to start a small business, things you should be aware of, resources of other companies who have valuable information for new businesses and much more!
Buyer Tools for the Wholesale Liquidation Industry
Our website features a Buyer Tools section introducing a series of widgets specifically developed to help you perform various useful calculations including calculating your potential revenues, profits and more!
Our Buyer Tools section currently offers seven widgets for calculating your profits, determining how your shipping cost is distributed over the lots you purchase in any given order, the potential revenue you can expect on customer return loads, a currency converter and more!
Each widget comes with detailed instructions on its purpose and functions along with two examples of how to use it. Feel free to call or email us with any questions, feedback or suggestions!
Buyer tools & calculators are available only to registered users. Please register or login to access all widgets.