The following are department store return loads unless otherwise specified
This section attempts to summarize most of the various wholesale truckloads that are available on the liquidation market.
Please review the information below and email us at [email protected] to discuss your specific needs or to obtain truckload shipping quotes.
About our Loads & Truckloads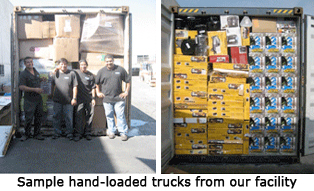 We carry loads and truckloads of General Merchandise, Tools, Electronics, Clothing, Toys, Hardware, Domestics, Furniture, Clothing, Shoes and more! You may also custom-build your merchandise truckloads from any combination of our listings by the pallet. We can hand-load trucks when necessary to maximize the use of space and save you on shipping costs.
Load availabilities change on a daily basis. The site is updated with new loads but please call or email us with what you are looking for so we can discuss your specific needs.
Descriptions, pricing guidelines, sample manifests & pictures are provided where available. Due to contractual obligations we use abbreviations or codes to identify the department stores. The loads below are separated by category.
We purchase truckloads on a daily basis from a variety of department stores, mail-order and large e-commerce retailers. Different loads are available nationwide, and many ship from our own facility or directly from the department stores and distribution centers.
All products are sold AS-IS. Via Trading makes no guarantee or warranty, express or implied and without limitations, of merchandise fitness or marketability. Please do not purchase if you are not familiar with such types of customer return loads and/or the department store return industry.