Custom Floor Standing Retail Display Units
Brand new custom designed floor standing retail display unit, specifically for attractively displaying assorted wholesale lots!
Catch your shoppers' eyes and increase your sales with these easy to merchandise retail displays!
Fantastic for displaying items at a flea market, yard sale or in a discount store!
Purchase this display alone for $49.95 or combine it with one or more of the lots below and get the display FREE!
Very light weight - easy to transport, move and set up!
Multi-functional use, ideal for a variety of products! Use it to display cosmetics, general merchandise, dollar items, jewelry, fashion accessories and more!
Made of sturdy and durable printed Kemi cardboard.
Displays come un-asseMled and flat packed in a lightweight cardboard box.
Each display includes:
Floor standing display unit with pre-printed savings/retail messages
Double sided headboard - use your own message or our pre-printed custom message
Two display trays
Back board on which to display up to 36 hanging items
Two tray risers (to lift up smaller items to the surface of the trays)
See-through side panels to show the assortment of items inside each tray.
Each display includes the following additional items, FREE!
24 plastic display hooks (12 simple 4" hooks and 12 6" hooks with room to place pricing for the displayed items)
108 plastic adhesive hang tags to display items that do not come with their own retail hang tags
Each asseMly - less than 5 minutes per display! Each display comes with its own set of asseMly instructions in English and Spanish with pictures.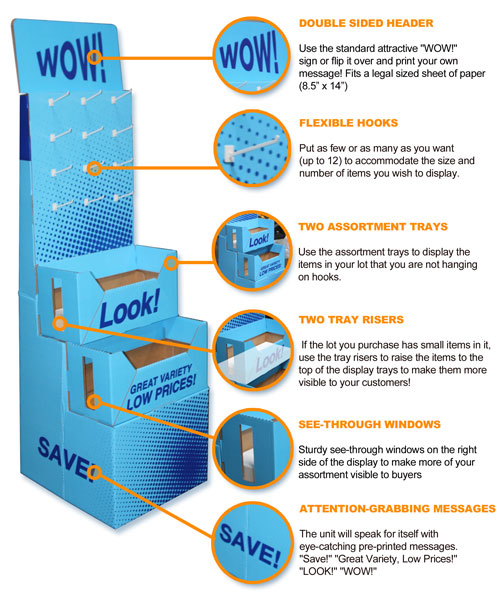 Check out what customers have to say about them!
"The displays are very practical - they present the product better and it's easier for the customer to locate what he's looking for. I hope you have these all the time for us vendors because it's easier and faster to make sales. I'm running out of product faster and coming to buy more - it's great!"
- Mary Muniz 8/17/2011
"They're great! The products have a presentation!"
- Claudia Hernandez 8/16/2011
"They're working well and bringing more customers in already."
- Abram Perez 8/16/2011
Receive a FREE retail display with the purchase of one or more cases from select lots!*
*One display per SKU, per customer. Cannot be coMined with any other special offer or discount.
Here is an example of a Display being used in a retail store: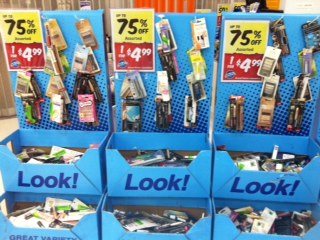 Product Condition
Master Case
Manifested / Links
Manifested