Check out our new profit calculator! Find out how much you can potentially make from any wholesale purchase at Via Trading or from any other wholesale liquidator!
Selling Tips for Yard Sales
Yard sales are a great way for you to get rid of some of your unwanted personal items, but also a great way to supplement your income by selling liquidated goods you purchase at a discount. Here are some tips for yard sellers:
Make sure you get people to your yard sale!! Advertise it for a week or to before you plan to have it. Posters on trees and lamp posts, and flyers work well. Be sure to check up on local rules and regulations for posting signs and outdoor advertising.
Partner with other yard vendors in your area to take advantage of their traffic and cut them in on a small commission of your sales. This is especially advantageous if you don?t have a large yard or if you have people in your area who have regular yard sale visitors that you can benefit from.
Check the yard sale rules in your town or city. Some municipalities put restrictions on what days you can hold yard sales. There may be some permits to apply for so make sure you find out about those to avoid any unnecessary headaches down the line.
Make sure you purchase a wide variety of goods and not too many repeats of one item. It will be much easier to sell 1 piece of 100 different items than 100 pieces of 1 single item.
This section features information and resources for yard and garage sellers.
Don't waste too much time doing your own research when others have already done it for you! The guys at YardSaleSearch.com have done extensive research about put together a great list of 101 tips for scheduling your yard sale, gathering your inventory, preparing for your sale, advertising, pricing items, setting up the sale, running the sale, wrapping up the sale and more!
To get you started, here are 10 of their tips. Be sure to read on for all 101 of them!
Make sure your yard sale doesn't fall on a holiday weekend. Fridays and Saturdays are best - when people are home and out in their neighborhoods.
Schedule a yard sale around the first of the month because that's when people have the most money.
Have a large quantity of items to sell and a big variety.
Capitalize on the season. Feature luggage at going-away to school of vacation time, or toys near Christmas.
Check into your community's laws regarding yard sales. Some communities require a yard sale permit.
Spend time to clean and wash items to make them look their best.
Make yard sale signs that are legible with big and clear arrows directing people.
If you have a lot of one certain item, consider a set price for filling an entire bag of that item.
Make sure you have different price tag sizes - the bigger the item, the bigger the tag for the price.
Put a box of "free" stuff out front to attract people who are "just looking."
Check out the remaining 91 tips on how to have a successful yard sale!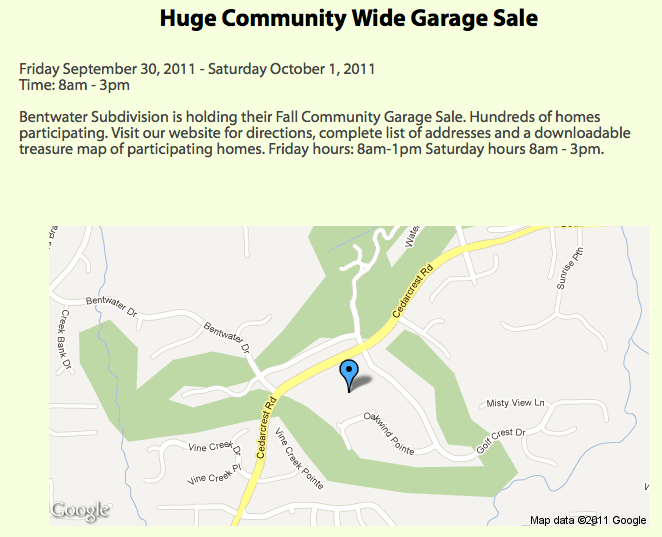 Advertising your yard sale locally on lamp posts and in your local paper can be great, but take advantage of the internet too!
Certain websites offer free yard sale posting services - either browse the sites to see what yard sales are going on in your area (and perhaps avoid scheduling your yard sale on the same day), or post your yard sales for others to find. The more you get the word out, the better!
YardSaleSearch allows you to post your yard sale for free. You can include all the address information, the start and end time of your sale and they will even include a map right to your location!
Find or post a yard sale here!
One of the best and most effective ways to advertise a yard sale is to place signs around your neighborhood with arrows pointing passers-by to your yard sale. Don't have the know-how, tools or budget to get this done? Don't worry!
There are websites that offer FREE yard sale signs that you can print directly from your home or office computer. Depending on the type of sign, you can either fill in the information by hand around the pre-printed arrows, or you can even type your yard sale's information into the text boxes and custom-make your own signs for free!
Check out these free pre-printed yard sale signs.
Or put in your own information and custom-make your yard sale sign based on an easy template. Great for those who aren't computer savvy!.
Yard Sale Articles
The following articles describe actual small business owners' experiences selling liquidation products at yard sales, the challenges they faced and hints and tips they recommend for others in this business.
Multiple Sales Channels Yield Big Sales
Read more wholesale and liquidation industry articles and helpful articles in our articles section!