Welcome to Via Trading! We're glad you found our website and we look forward to your learning more about us, becoming part of our community and one of our valued customers. Via Trading is a wholesale supplier of closeouts, overstock and customer return merchandise from the nation's leading department stores. We specialize in supplying resellers large and small with merchandise at a fraction of its original cost. Whether you sell on eBay, at flea markets, swap meets, at a discount store, wholesale, auction, broker or export, we can help get profitable merchandise into your hands quickly and hassle-free.
Wholesale Suppliers of Closeouts, Overstocks and Returns, Via Trading Corporation is a family owned business founded in 2002.
Via Trading is a wholesale supplier of overstock and clearance merchandise specializing in the sale of wholesale liquidations, wholesale overstocks and customer returns. We utilize a vast network of sources including retailers, manufacturers, insurance companies and bankruptcies so as to provide our customers with one of the widest varieties of bulk clearance merchandise choices and lowest cost alternatives in the industry.
Our significant purchasing volumes allow us to benefit from additional savings which we pass on to our customers and together with the variety of wholesale products we offer, help us create a one-stop shopping experience to fulfill our customers' surplus merchandise needs.
Having always taken a long-term approach to business, we aim to build long-term relationships with customers as opposed to one-shot deals.
As a service-driven wholesale distributor, we are able to ship at very competitive rates nationwide and can also export throughout the world. We can take care of all the logistical issues, whether shipping 20 miles or 10,000 miles away.
We are proud members of the Better Business Bureau with an A rating and have been recognized seven years running as one of the country's fastest growing companies (Inc. 5000). We have also been featured on NBC, ABC, The CW, Forbes Magazine and Investors Business Daily.
We aim to please all customers, whatever their size and we hope that you will always find us honest and sincere to deal with. We pride ourselves in our quick and efficient customer service. Emails are always answered promptly and efficiently and you will always hear a human voice whenever you call during business hours.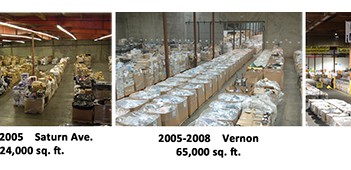 This post is also available in Español.
This post is also available in Español.