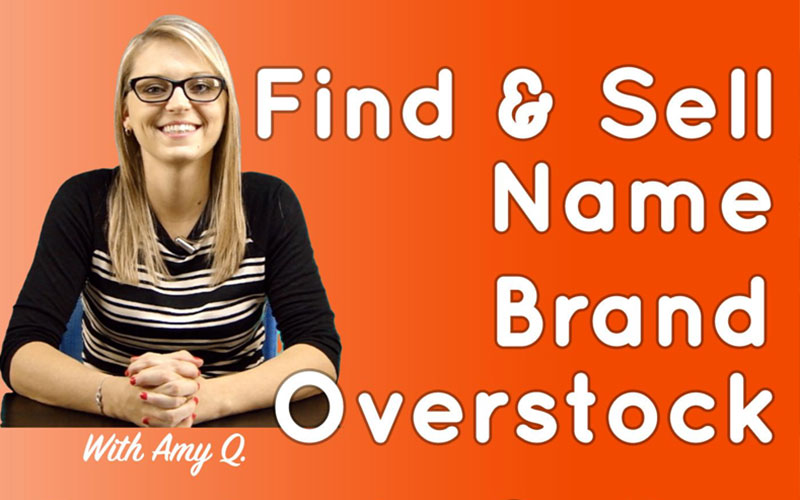 30 Jan

Find and Sell Name Brand Overstock Products Online
🚀 We finally launched the [FREE] Overstock Academy Podcast
In fact, I was so eager to launch, that I released several episodes at once!
The podcast is totally free.
In it, I provide The Insider Methods Of Finding Profitable, High Quality, Name Brand Store Overstock Products To Sell Online. 
I share strategies from my own experiences concurrently running eCommerce stores on eBay, Amazon and several Shopify selling name brand overstock products.
It gets even better… 
—In my interviews, you'll also hear insights from top performers in the overstock and online selling industry —many who have never shared their tips publicly before.
—Discover why dozens of online business owners turn to me and Overstock Academy to generate more profits and to make sense of the 127 Billion a year Overstock/Liquidation industry
—How to implement the strategies that really get results, and turn that side hustle into an online business that lasts.
The episodes are designed in form of mini-trainings and step-by-step guides,
Each episode is designed to help you take immediate action on the most important strategies for starting, scaling and automating your online business.
As always, you and I will explore the topics and the steps to creating an interesting life, as well as the behind-the-scenes action of how I built a 6-figure online business selling name brand store overstock products.
YOU'RE PROBABLY WONDERING "Hmmm FREE INFO?… WHAT'S THE CATCH HERE?" 
Usually, I only offer this information to the students in my Overstock Academy. So why are you getting this for free?
Well, even though I sold my 6-figure overstock business recently, I still participate in a number of Facebook groups and forums.
I see a ton of questions in those groups and they remind me of what it was like, starting my online overstock business.
All alone.
The other "experts" out there are giving vague advice, at best. I remember buying tons of courses to try to get on top of the overstock, dropshipping, private labeling madness, but none of them gave me concrete strategies. It was exhausting, soul-sucking, and disappointing.
It almost made me quit and go back to my 9-to-5! Can you imagine what I would have missed out on?
When I solved all these problems and created systems for myself, I created a 6-figure business—and then sold it!!
Rather than convince you to join Overstock Academy, I'd rather solve these BIG roadblocks in your business for FREE.
I don't want you to give up because you're tired of feeling tricked into buying courses that don't actually help you grow your business!
Here is my promise to you:
✓ Whatever podcasts, guides or emails I put out are honest stories from the trenches, from my journey of going from broke to selling my business for a high 6-figure amount. 
✓ Any free materials I give you are truly valuable. They are not crap, simply filled with fluff to try to get you to buy my products. I do want you to buy my products, obviously, but I'm not going to entice you with half-assed, crap materials.
✓ You will never be alone on this journey. I will be available to answer your questions and bounce ideas off of. 
✓ If you ask me a clear question, I will never give you a vague answer. Chances are, I have already gone through and overcome the problem you are facing
And that, my dear friend, is my mission with this podcast and I hope you join me.
Remember my friend, you are no longer alone on this journey.
Amy Q.