Minimizing Shipping Costs
Shipping wholesale products is not as straightforward as shipping 1 item in a small box. Depending on your location, the amount of product you purchase and the weight of these products, shipping quotes will vary and you may be faced with the need to minimize your shipping costs before moving forward with an order.
You can also use our Combined Shipping Savings calculator to determine how much you can save by shipping more than one lot at a time.
Option 1 - Ship Multiple Pallets
SHIPPING MULTIPLE PALLETS IS OFTEN CHEAPER THAN SHIPPING JUST ONE.
Much of the initial cost of shipping covers the pick-up, the delivery and the administrative paperwork. These are generally fixed costs and shipping one pallet will always be relatively more expensive than shipping multiple pallets. After that initial charge, the cost for the second or third pallet only goes up marginally. This is especially true when shipping to residential addresses and/or when shipping with a lift-gate since both are relatively fixed flat charges.
Example assuming the pallets are of equal weight:
Shipping 1 pallet from CA to NY can cost $250
Shipping 2 pallets can cost $350 ($175 each)
Shipping 3 pallets can cost $430 ($143 each)
As you can see, the cost of shipping additional pallets increases disproportionately; the more pallets you ship, the less it costs to ship each additional one.
Here are some examples using the shipping quotes above, factored in with pallets of merchandise that cost $300 each.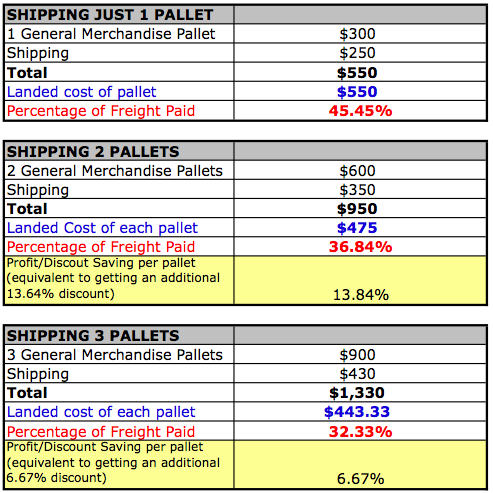 As you can see, your percentage paid on freight goes down the more pallets you ship, as does your landed cost per pallet and subsequently, your potential profit increases.
Your vendor may provide you with additional discounts for multiple pallet purchases, further minimizing your overall delivered cost of goods. This is a good technique to use when shipping under 8 pallets. Less-than-Truckload carriers can take up to 8 pallets. More than 8 pallets (but less than 24) may need to be shipped in 2 or more shipments. MORE INFORMATION ON LTL SHIPMENTS.
Option 2 - Shipping to a Freight Terminal Can Save you the Residential Charges
Although it can be much more convenient to receive the merchandise directly at your door, it does cost a little bit more and there are options to avoid those additional residential charges.
Pallet orders get delivered by LTL and these shipments get delivered on large trucks. The pallets must be lowered to the ground and for insurance reasons, LTL companies do not allow customers to climb onto the truck to unload the pallets themselves, but instead impose a $25-$75 liftgate charge to lower the pallets down for you. Shipping to a residence or residential neighborhood also adds approximately $25-$75 to the cost of shipping.
PLEASE NOTE: The driver will only lower the pallet to the ground. It is the customer?s responsibility to bring the items inside the house or garage.
One way to avoid these additional residential/liftgate charges is to go pick up your pallets at a local freight terminal.
There is a freight terminal in or near every major city, and you can rent a U-Haul or drive over with a pickup truck to get the merchandise from the terminal to save yourself some money.
There are some things to consider to determine if this will be worth it for you:
The distance of the terminal from your home
The rental cost of a U-Haul/Pick-Up/Van if you do not have use of a track or van or trailer
The fuel cost of driving to the terminal and back
The time it will take you
Often times, the residential surcharge is very reasonable once you factor in the time and out-of-pocket expenses you would incur by picking up the pallet from the terminal yourself.
Option 3: Adding Case Packs Spreads Shipping Over More Merchandise
If you only have space for 1 or 2 pallets but the shipping costs are rather elevated, you can opt to add a couple of case-packed items to your order.
Case-packed items are items which when ordered alone, are typically shipped UPS. Case packs are sold in smaller lots, packed inside small boxes that are relatively low weight and can be consolidated with most pallet orders and shipped at little to no additional charge.
This allows you to spread your cost of shipping over a larger dollar amount of merchandise, lowering your overall percentage paid on shipping.
EXAMPLE:

As illustrated above, this small addition of a case-packed item lowers your overall percentage paid on shipping by almost a third!
Option 4: Maximize Space on the Truck
When purchasing larger loads of merchandise such as full truckloads, it is also a good idea to use up ALL of the space on the truck. In the large majority of cases, shipping rates for full truckloads are FLAT and do not change whether the truck is filled to capacity or half empty.
Depending on the type of pallets/goods you buy, 24 to 60 pallets can typically fit on a truck. If for instance you are purchasing a 20 pallet load, there may still be plenty of space available. The cost of shipping the truck will not change, but adding more merchandise to fill the truck all the way will reduce the percentage of shipping that you pay on the overall load. This, in turn, will reduce your landed cost per pallet or unit and will increase your potential profit.
Some vendors may charge an additional fee for consolidating or double-stacking merchandise but most vendors offer that service free of charge.
Here is an example with a large WM Load, and a couple of pallets of MB Shoes to fill up the extra space on the truck.

Here is an example with 26 pallets of FM merchandise (single stacked, which fill up the floor of the truck). With pallets like these that can be double stacked, doubling the quantity shipped to fill the truck minimizes your percentage paid in shipping and your landed cost per pallet: